This page explains our paid advertising and local marketing service. If you are looking for a free basic listing please see our Free Roanoke Business Directory. Our free basic listings are available to Roanoke VA Businesses only and do not include any additional promotions, bells, or whistles. To reach thousands of local buyers weekly read on…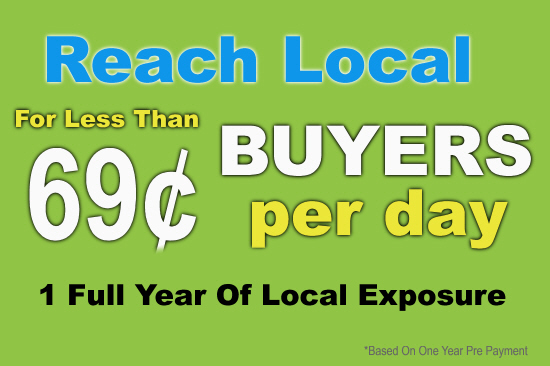 Advertising with RoanokeShopping.com DOES NOT only get your company featured on our website, it is like having your own micro website that ranks high on Google and other search engines for keywords that will drive local buyers to your business.
Each of our premium advertising clients receive a custom page about their local business on RoanokeShopping.com, this custom page is then optimized for keywords that drive local business to you VIA search engine like Google, Yahoo!, and Bing.
You might already have a website that shows up for your name on Google but, does it show up for keywords that people are actually using on Google to find a product or service like you offer?
We have over 12 years of online marketing and search engine optimization experience and will use our knowledge of search engines to drive massive amounts of traffic to your RoanokeShopping.com page, thus bringing your more business. Imagine having your company listed on the TOP of Google above your competition.
As a member of RoanokeShopping.com you will also be promoted frequently on our FaceBook page which is growing rapidly. Since we only network with local consumers you will be the talk of the town while advertising with us.
Features of Listing:
Full Page Unlimited Text
Up To four Images
Embed Video On Your Listing Page (Must Be Posted To YouTube)
 Keyword Optimized
Guaranteed To Appear In Google Search Results (Page 1)
Social Sharing Buttons On Listing (FB, Twitter, Email, and more)
Promotion on local FaceBook pages!
Google Map (Map To Your Location)
Unlimited Revisions of your listings basic information (Within Reason)
Ability to allow comments/reviews about your business (Recommended)
Off site promotion of your page and business on over 150 blogs and sites
Heavily Promoted By RoanokeShopping.com
Possible Yearly Award (Best Of RoanokeShopping.com Certificate)
All Listings Have An Interactive Star Rating System To Increase Page Popularity.


Share Features To Help Pages Go Viral On Facebook – Twitter – Email and More.


Cost Of Listing & Promotion:
To keep in simple we offer all of our clients the same aggressive marketing perks and attention, we have one all inclusive package.
For less than 69₵ per day for an entire year you will have a team of local online and search engine optimization experts working to promote your RoanokeShopping.com page.
The cost for 1 year of service is only $250.00 paid in advance. Once your listing fee is paid your page will be active onsite within 48 hours. Since it takes us a few days to implement our search engine promotion tactics, we do not start your yearly clock for 10 days after payment.
How To Get Started
1. Provide Us with Images of Your Business or Logo along with the Ad Copy (Text) you would like on your RoanokeShopping.com Page. We can help you with this process or use your existing website to gather information for your listing.
2. Remit payment VIA phone with a credit card or in person with cash, check, or credit card, or by mail with check. Contact us for details. We are always happy to pick up local payments.
3. That's it! Let us handle the rest – we will work hard to help your local business grow online. We also offer other web based marketing services by request. Within 10 days you will start enjoying the benefits of being a member of the RoanokeShopping.com Online Network
Get Started by contacting us today! We accept most major credit cards by phone and in person, as well as cash. Check, and money orders.